COVID-19 TREATMENTS
Vaccines
As we proceed with social distancing, the search for a COVID-19 vaccine continues. There are over a dozen vaccines in human trials with more expected to start in the near future. Major participants include: Inovio, CanSino, AstraZeneca, Moderna, Merck, Johnson & Johnson and Sanofi. According to Stat News, right now "178 vaccines are in various stages of development." The technology being used is synthetic messenger RNA that transmits specific genetic DNA from cells to make a protein that our immune systems will attack. We hope to see the data on these trials in upcoming months.
Source STAT,
"
Covid-19 vaccine from Pfizer and BioNTech shows positive results
"
Drugs
Along with the race to find a vaccine, there is pressure to find a medication to treat COVID-19. Gilead has received approval from the US Food and Drug Administration to use their drug, Remdesivir, on critical COVID-19 patients in the hospital. It has been shown in a government-sponsored study to decrease the recovery time by four days on average after being given daily for 10 days. Remdesivir blocks an essential enzyme the virus needs to be able to spread. However, there has been widespread speculation on the cost of Remdesivir. According to Fierce Pharma, "For governments of developed countries, including the US, the price will be at $390 per vial or $2,340 per course." Gilead looks to recover their developing and distributions costs, but if a vaccine is created or herd immunity happens, will Gilead make a profit? We'll see.
Sources: Daily Mail,
FDA has APPROVED experimental drug Remdesivir for emergency use for coronavirus patients, Donald Trump reveals, days after study showed it may help the worst-hit
;
FiercePharma,
Gilead's line with watchdog estimates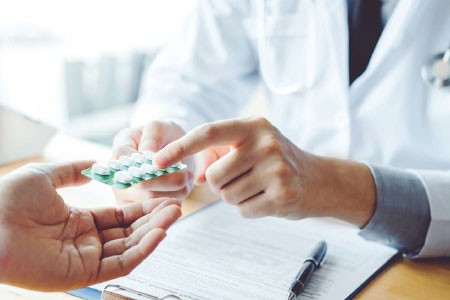 PANDEMIC DRUG PACT
The Trump administration has signed a four-year agreement with Phlow Corp., a generic drug maker based in Virginia. The goal is to secure the nation's supply of critical medications and the ingredients needed to make those medicines. According to Fierce Pharma, "Phlow has teamed up with CivicaRx, a generics maker started by hospitals fed up with rising drug prices, and active pharmaceutical ingredient (API) supplier AMPAC, among others." This will help the US manage the shortage of essential drugs at risk, as well as create a reserve to decrease the dependence of foreign suppliers.
Sources: FiercePharma,
Trump picks little-known U.S. firm to spearhead $354M pandemic drug pact
;
NBC News,
Trump admin taps startup to build nation's first stockpile of key drug ingredients
TELEHEALTH
Demand for telehealth systems has boomed in response to the ongoing COVID-19 pandemic, setting the stage for telemedicine to finally achieve at least some of its long-promised benefits. Analysts expect widespread use to continue even after the current crisis abates.
While the pandemic will prove the value of virtual care in a crisis, it will also demonstrate the effectiveness for ongoing chronic care management. Telehealth broadly involves the remote provision of healthcare between doctors and patients, most often by way of video consultations, and remote patient monitoring.
Close to half of doctors are now using telehealth to treat patients as the COVID-19 pandemic changes practice patterns and how physicians deliver care. The crisis has led to telehealth vendors seeing huge spikes in demand; some have gotten a year's worth of traffic on their platforms in the space of a month.
In a bid to help support practices, the Centers for Medicare & Medicaid Services (CMS) agreed to pay for virtual visits at the same rate as in-person visits while the coronavirus emergency remains in effect. And HIPAA data privacy rules have been relaxed to enable the use of consumer video apps such Apple's FaceTime and Microsoft's Skype as a temporary means of connecting doctors and patients, especially for practices that did not previously deploy telehealth. CMS also agreed to pay physicians for patient visits that take place by telephone to help practices stay open by providing them with needed revenue.
One positive result of the pandemic is that barriers to accessing physician services through telemedicine may be reduced, especially in high touch areas such as mental health and addiction counseling. Addiction experts have been calling for that change for years to help expand access for patients in many parts of country that have shortages of physicians eligible to prescribe these medicationassisted treatments.
In March, the Trump administration suspended a federal law that required patients to have an in-person visit with a physician before they could be prescribed drugs that help quell withdrawal symptoms. Patients can now get those prescriptions via a phone call or videoconference with a doctor.
Several insurers – including Aetna, and Blue Cross and Blue Shield companies like Anthem across the country – have begun covering the telemedicine addiction service.
Sources: Computerworld,
Telehealth booms amid COVID-19 crisis; virtual care is here to stay
;
FierceHealthcare,
Half of physicians now using telehealth as COVID-19 changes practice operations
;
Keiser Health News,
Coronavirus Crisis Opens Access to Online Opioid Addiction Treatment

LOOKING BEYOND COVID-19
Pharmacy Trends
COVID-19 pandemic has upended almost every industry, including the pharmaceutical industry. IQVIA vice president Doug Long identified a slowdown in mergers and alliances as one of the things spurring change. For example, the merger of Aurobindo-Sandoz and the Mylan-Upjohn. Also, most pharmaceutical reform has "fallen by the wayside" most likely until after the next election cycle. Long also mentioned that the pandemic has not eliminated the ongoing issue of reimbursements, specifically DIR fees. "DIR fees are not going away," Long said. "There's a lot of patient groups trying to get changes
in DIR fees."
In terms of growth, both total market and retail side growth are in the 7% range. "What's interesting is that the percent change for retail and mail is greater than the percent change for the total market," Long said, noting that historically the total market saw greater change than retail and mail and speculating that this might be due to a higher proportion of oncology business in the market overall.
Source: Drug Store News,
IQVIA's Long sizes up pharmacy trends amid COVID-19
Delayed Care
More than a third of primary care providers fear their patients may die due to delayed care during the COVID-19 pandemic. This is according to a survey conducted by the Larry A. Green Center in partnership with the Primary Care Collaborative from May 1 to May 4. The survey contacted 750 primary care providers in 49 states and Washington DC. There is an emerging concern that delayed healthcare, in part due to stay-at-home restrictions, may lead to serious and sometimes fatal repercussions for patients over time.
Clinicians predict primary care will be overwhelmed with pent-up demand after the pandemic subsides. More than 60% of responding providers believe that some of their patients will experience avoidable illnesses due to either diverted or avoided care. Two-thirds of respondents say they fear parts of the country will be opened too early and a second wave of COVID-19 could prolong the strain on the healthcare system
Excerpted from FierceHealthcare,
Primary care doctors fear delayed care will lead to serious illnesses, death
Preventive Care Must Continue
Prior to COVID-19 dominating the lives of both patients and doctors, many primary care physicians focused on a patient's preventive health, for example, informing them about heart disease and conducting cancer screenings. Yet in order to reduce the spread of COVID-19 and funnel resources toward combating the pandemic, many preventive care visits and procedures are being put on hold.
While it is not clear how long the pandemic will last, some suggest the virus could prove dangerous for another year or longer, and there is no question it remains our most imminent threat. To meet increasing demand primary care physicians and specialists are being redeployed to emergency departments and ICUs, thereby postponing preventive care visits and important procedures. Yet other medical ailments cannot be put on hold indefinitely and patients cannot ignore their health. Strategies must be developed to assist patients and physicians in navigating healthcare in this new landscape.
Physicians have been able to provide virtual care in the form of telephone and video visits to continue treating patients while still adhering to social distancing recommendations. These types of visits are very effective for a number of medical issues, but have limitations when it comes to preventive measures such as cancer screenings, and for procedures such as colonoscopies, pap smears and mammograms.
Source: U.S. News,
Preventive Care Must Continue During the Pandemic
Decline in Immunization
As social distancing restrictions are relaxed, the US could see outbreaks of measles and other vaccine-preventable diseases, according to the CDC, because children are being vaccinated at a lesser rate during the COVID-19 pandemic. The organization cited a study indicating that vaccinations of children and vaccine orders dropped drastically in late March, about a week President Trump declared a national emergency due to the pandemic.
However, the decline in vaccines was not as significant for children aged under 2 years. The study found that vaccination numbers for that group have begun to tick back up. As of mid-April, at sites tracked by CDC measles vaccines were given to about 1,500 young children a week, compared with 2,500 a week before the pandemic.
The American Academy of Pediatrics (AAP) has published new guidelines to help keep children protected and to manage well-care visits safely and efficiently during the pandemic. AAP recommends in-person visits whenever possible, but also implementing telehealth where appropriate. Missed visits should be noted and patients should be contacted to schedule in person appointments. According to the guidance, "pediatricians should work with families to bring children up to date as quickly as possible."
Furthermore, offices should implement safety measures and communicate these strategies to families. A few measures may include: scheduling well visits and sick visits at different times of the day, and separating patients by placing sick children in different areas of the office or in a different office location, if possible. The guidelines also recommend collaborating with providers in the community to identify locations for providing well visits.
Sources: MPR,
AAP: Decline in Immunization During COVID-19 Pandemic Concerning
;
Washington Post,
CDC warns of potential measles outbreaks as kids fail to get vaccines
NEW DRUG RELEASES
Koselugo
A new treatment was approved in April that will target a rare genetic condition that occurs in an estimated 1 out of every 3,000 babies. This condition, called neurofibromatosis type 1, causes the growth of tumors on the nerves including within the protective nerve coating which are called plexiform neurofibromas. These tumors can be painful, disfiguring and grow all throughout the body. The disease continues to get worse with time as more tumors grow, impacting more organs and body systems. Symptoms can include changes to the color of the skin, breathing difficulties, limited strength or motor functions, and poor eyesight.
The new drug, Koselugo has been approved to treat these plexiform neurofibromas in children 2 years and older who experience tumors that are causing symptoms but are not able to be removed surgically. Koselugo is known as a kinase inhibitor and it helps to stop the growth of these tumors by removing a specific enzyme. Some common side effects are rash, stomach pains, diarrhea, nausea/ vomiting, dry skin, fatigue, body aches, fever, acne, inflammation of the mouth and lips, headache, infection in the skin that surrounds a toenail or fingernail, and itching. Serious side effects include heart failure and eye damage. Patients need to have heart and eye function assessed before starting the drug and also frequently during treatment. Creatinine phosphokinase levels should also be monitored during treatment to identify signs of muscle damage.
AstraZeneca reported the list price to be around $12,500 per month for the average patient. This price may vary slightly as the dosage is based on a patient's weight.
Sources: BioPharma Dive,
AstraZeneca and Merck drug wins approval for rare cancer after failing elsewhere;
;
FDA,
FDA Approves First Therapy for Children with Debilitating and Disfiguring Rare Disease
Nurtec ODT
A new migraine medication was approved by the FDA in late February this year. Nurtec ODT is one of only two oral medications in the class of drugs known as calcitonin gene-related peptide (CGRP) inhibitors. These include injectable options such as Aimovig, Ajovy, Emgality and Vyepti as well as Ubrelvy and Nurtec ODT oral medications.
Patients suffering from migraine headaches could benefit from access to a single, convenient oral therapy instead of having to utilize multiple medications.
Nurtec ODT is an orally disintegrating tablet, which means it is intended to dissolve under the tongue. Currently the FDA has approved Nurtec ODT only to treat an active migraine in adults, whether or not they experience an aura. It is also being studied as a possible prevention for migraines when given every other day. If Nurtec ODT gains approval for prevention as well as treatment it would be the first oral medication to have this dual indication. Patients suffering from migraine headaches could benefit from access to a single, convenient oral therapy instead of having to utilize multiple medications.
The most common side effect for Nurtec ODT is nausea and it should be noted that its use should be limited in patients that have limited liver or kidney function. The costs of this medication is currently estimated around $800 - $900 per month.
Sources: MPR,
FDA Approves Nurtec ODT for Acute Treatment of Migraine
;
PR Newswire,
Biohaven Achieves Positive Results in Pivotal Trial of Oral NURTEC™, Dosed Every Other Day, for the Preventive Treatment of Migraine
Zeposia
A new oral multiple sclerosis medication was approved by the FDA in late March, but its launch was delayed until June due to COVID-19. This new medication, Zeposia, is similar to current treatments Gilenya and Mayzent but unique in that it does not require any genetic testing or first-dose monitoring for patient safety. Dosing for Zeposia starts low and gradually increases over seven days to reach the intended maintenance dosage of 0.92mg daily.
The most common side effects are upper respiratory infection, liver problems, dropping blood pressure when moving from sitting to standing up, urinary tract infection, back pain and high blood pressure. More serious infections are less common but may be possible due to the impact of Zeposia on white blood cells.
The list price of Zeposia is reported as $8,718 for the starter kit and then $7,068 monthly for the ongoing treatment.
Sources: Bristol Myers Squibb,
What does it cost to take Zeposia?
;
Multiple Sclerosis News Today,
FDA Approves Zeposia (Ozanimod), Oral Therapy for All with Relapsing MS
Tamiflu's Over the Counter Availability
In July of 2019 the drug manufacturer Sanofi negotiated a deal to be the exclusive producer of over-the-counter Tamiflu from Roche Pharmaceuticals, the current maker. The deal is just one part of the process to make Tamiflu available in the US without a prescription; Sanofi still has to apply for approval from the FDA. So far there is no expected date of availability for an over-the-counter version of Tamiflu.
Tamiflu is used to help shorten the time someone has the flu or to help prevent spread among people at risk, like family members or caregivers for someone infected. If Tamiflu therapy is started within 48 hours of getting the flu, most patients get better one day earlier than someone who doesn't take anything. For people trying to prevent spread when they're exposed to someone with the flu, Tamiflu was able to reduce their chance of getting the flu by 55%.